As the heart of your separation process, it's essential to make sure that your centrifuge is performing at its best to maximize uptime.
While minor and major service visits can help keep your centrifuge in good working condition, wear and tear will require you to send in your bowl and other essential components for more extensive service over time.
By understanding the shop repair process, costs involved, shipping logistics, and what to expect, we can help you prepare for and execute your repairs with as little disruption as possible to your plant.
Which centrifuge repairs require shop service?
When you schedule minor or major centrifuge service, our field service technicians will record any findings in your service report, including any upcoming repairs that your centrifuge will require. Sometimes, these repairs can be completed right in your plant. But other times, the repair might require you to send in your bowl for repair and balancing.
Standard shop services include:
Bowl shells (e.g., pitting, galling, fit, finish)
Bowl components (e.g., sliding piston, disc carrier, lock ring)
Lower frames
Tubs and domes
Pumps/impellers
Disc compressors
Bowl and frame tools
Preparing to ship your bowl for service
Worried about downtime while your bowl is out for repair? Our bowl rental program makes keeping your production volume goals on track easy. Our field technicians can help swap your bowl out for a rental bowl — plus, we'll arrange shipping to send your bowl to our shop.
What happens when your bowl arrives at our shop?
Curious about what happens the moment your bowl arrives at our Indianapolis shop? Let's walk through our process.
1. Initial inspection and estimate
When your bowl arrives at our shop, our experienced estimator will carefully inspect your bowl to identify the exact service needed to get it back to its best possible condition. We will identify any cracks or issues using a dye penetration test and report our findings.

Upon providing you with an estimate, we will also provide you with a promised delivery date when you can expect to have your bowl back at your plant.
2. Repair service
Because we don't need to ship your bowl overseas, our repair process can usually be completed within a fraction of the time OEMs require. In fact, most services are finished within six weeks, while repairs to smaller parts, such as pumps, can be completed within a few days.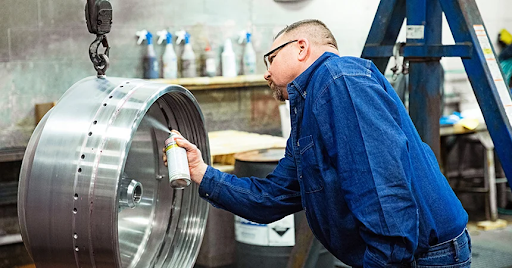 Our shop experts have decades of experience working on centrifuges — we're proud to say that we've just about seen it all, and we use our experience to ensure that your repair will be effective and that our work will last.
3. Bowl balancing
Any repairs completed to your bowl will require us to balance it before you can use it in your plant. That's why we balance every bowl, including testing with water, to ensure that it's safely and properly balanced before we ship it back to you.
4. Bowl returns to your plant
We'll carefully package your bowl and ship it back to your plant. Depending on your needs, we'll arrange to have a service technician meet your bowl when it arrives at your plant to install it or swap it out and ship your rental bowl back to our shop.
Why choose Separators?
We know an OEM is always an option for your centrifuge bowl and parts — so why work with Separators?

Apart from the fact that we are 100% dedicated to centrifuges — and centrifuges only — you'll also experience the following benefits when you service with us.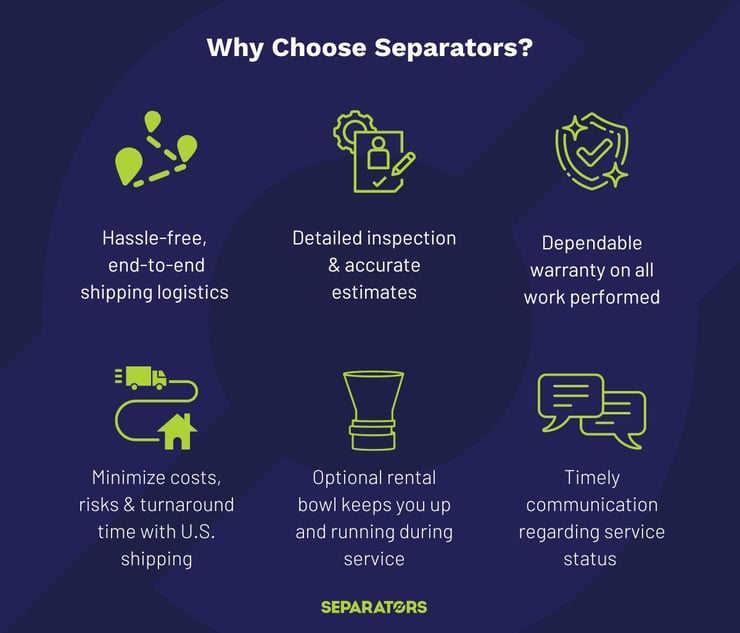 Schedule shop service today
Whether you've been waiting to take action on a needed repair or have an immediate service need, our shop experts are here and ready to help you schedule service and arrange shipping to our Indiana shop.