Did you know that a centrifuge generates a level of force several thousand times that of the earth's gravity? With that kind of force, it's no secret that a separator can quickly become the most dangerous piece of equipment in your plant.
While every plant has a "safety first" mindset, when it comes down to operating and maintaining a centrifuge, sometimes it can be difficult to know what that really means. So let's explore why it's important to leave some repairs to the pros.
Centrifuges require an expert's hand
The truth of the matter is that industrial equipment is complex, expensive, and can quickly become dangerous. Still, plants often band-aid fix their machines in order to stay up and running and hit their production goals.
At the end of the day, only someone who knows a machine should be adjusting settings or completing maintenance and repairs. Case and point: many dairy industry machine shops won't work on centrifuges simply because of how dangerous they can be.
Even if a repair is something you can complete in-house, the nature of centrifuges means that you can't replace one part without it impacting the rest of the equipment. For example, replacing a part in your bowl can easily create an imbalance in weight, which can quickly lead to production issues. Over time, this imbalance can lead to production issues, and eventually injury. But by sending your bowl to our shop, we can ensure that your repair is completed properly and that your bowl is properly balanced before it re-enters your production line.
Professional centrifuge service pays off big down the road
Catastrophic centrifuge incidents happen more frequently than you'd think. And most separators find their way to our shop because something disastrous happened that forced the plant to stop the centrifuge and pull it off the production line.
Most centrifuge failures are preventable
Let's say you perform minor maintenance to your centrifuge each year in-house, but you don't have someone come in, open up the bowl, inspect the frame, and identify and complete necessary repairs. Without a centrifuge expert physically laying eyes on your bowl twice a year (and inspecting your frame once a year), chances are that your centrifuge will experience an event that requires emergency service to get back up and running — leaving you with unplanned downtime.
The cost of regular minor and major service is a drop in the bucket compared to the money wasted on lost product and unnecessary downtime when your separator experiences an issue. If your role depends on hitting production goals, this planned downtime far outweighs the downtime (and possible safety hazards) you'll experience if you wait for a breakdown to get repairs.
Plus, your upfront investment can also buy you something that reactive repairs can never give you — peace of mind.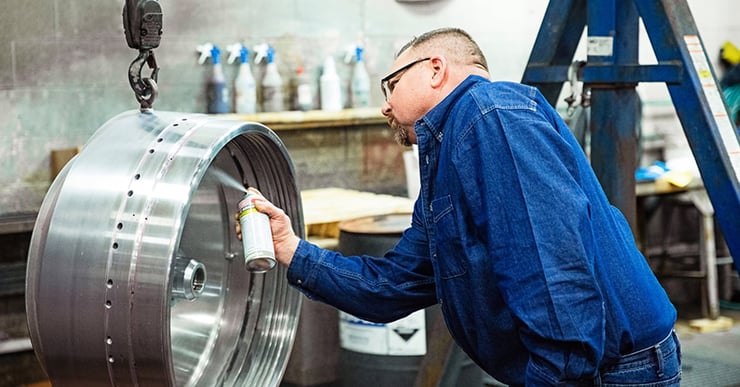 Get centrifuge repairs right the first time
You want to keep your team safe — and so do we. With equipment as complex as centrifuges, shipping your equipment to our shop for repair can mean saving thousands of dollars (and protecting the lives of your operators).
Because bowl balancing and frame repairs often require intricate tools our technicians can't bring into the field, our rental bowl program can keep your plant up and running while we work on your equipment and restore it to safe, efficient operating conditions.
Our Parts Department also offers loaner tools to help complete repairs at your plant. While many OEMS require you to buy these tools outright to complete service, we'll rent the tool to you for the duration of your repair. Our technicians will use it to complete your service, and you can return it when the repair is complete.
Servicing leading centrifuge brands
We service leading centrifuge brands, including Tetra/Alfa Laval Inc. and GEA. So step away from your centrifuge and call in the experts if you're experiencing any of the following scenarios:
High vibrations during operation
Unusual noise levels
Insufficient discharge
Inefficient CIP process
You're installing a centrifuge that's being shipped from another plant