Because of the nature of sanitary centrifuges, especially in the food industry, there are special considerations that must be taken into account when it comes to upkeep and maintenance. And the one thing you don't want to do is forego regular maintenance.
As much as you want to maintain production uptime, downtime is inevitable if regular maintenance and repairs aren't factored into your schedule. So here's what you need to know about upkeep and maintenance to hit your production volumes while also preventing a catastrophic event.
1. Stick to a service schedule
At Separators, we have found that the following maintenance schedule helps keep our clients up and running at their expected production volume, without creating too many downtime disruptions.
Minor service — Recommend every 6 months, minor service focuses on looking at the inside of your centrifuge bowl for worn parts and other red flags that could lead to downtime in the near future.
Major service — Recommended once a year, this service includes everything we do in a minor service, plus a full inspection of your frame and high-value parts.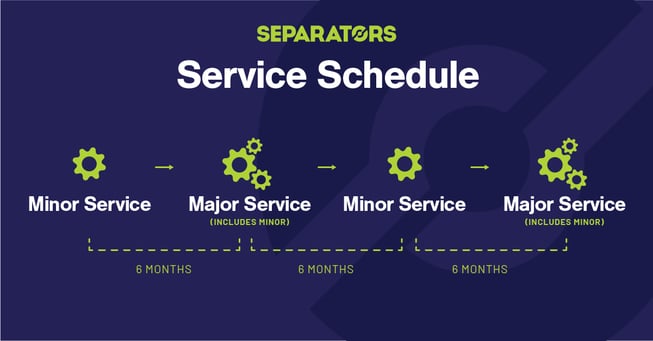 If you've never worked with Separators before, we'll start with a major service so that you can get an understanding of the current condition of your centrifuge bowl and frame. From there, we can list out our recommendations and replace parts that require repair. Generally, if we identify a part on your centrifuge that won't make it through the next 12 months, we'll opt to replace it to help you avoid unexpected downtime.
2. Be proactive about stocking spare centrifuge parts
We know that your plant doesn't have a ton of storage space — but it's well worth it to set aside a few shelves to store essential spare centrifuge parts, including gaskets, extra discs, and even a minor service kit. When you have these parts at your disposal, you can fix issues in the moment (such as an extra disc to your bowl, versus trying to accommodate inconsistencies in your product).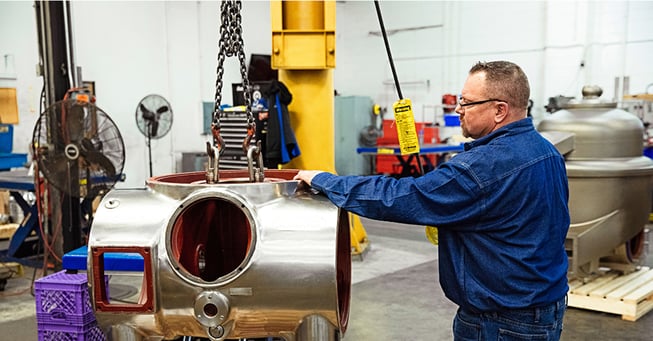 At Separators, we'll keep a Bill of Material (BOM) kit on hand for your equipment to help make sure we have what you need in the event that maintenance is required at the drop of a hat.
3. Use service visits to train your staff
Your maintenance staff plays a huge role in driving your plant's uptime. But it's not realistic for a person (or even a few people) to intimately understand each piece of equipment in your plant. And without that knowledge, it's difficult to know what to look for (and identify what needs replacing to prevent an emergency situation).
Our team's technicians partner with your maintenance staff to educate and help grow their skills. During our minor and major services, we encourage your staff to shadow our technicians to learn more about the inner workings of your centrifuge (and how to identify warning signs that something isn't working properly).
Give your uptime an edge
When you work with Separator's centrifuge experts consistently, we can keep track of your equipment's history and help you budget for big repairs down the road. We also will have your centrifuge's information on hand should you require emergency service or spare parts down the road. This consistency can prevent or shorten downtime in the future and give you the peace of mind that your production line won't be down for long in the event that there's an issue.
Maintaining your food-grade centrifuge
Your centrifuge is at its most efficient when it's maintained on a regular basis. By investing the time and resources to stick to a regular maintenance schedule, and getting the most out of each service visit, you can better optimize your production process and prevent unnecessary downtime.